Keizu: A Life In The Woods
A downloadable experience for Windows

Keizu is a game for those who love both Visual Novel and Adventure games. It combines elements of both genres of games to create an engaging world for you as the player to explore. 🌸
This game is a visual novel style adventure about forest spirits, corrupt businesses, family heritage and a story of undying love. Some of the biggest inspirations for this title are game's like To The Moon and Phoenix Wright that feature unique adaptations of the classic VN genre. Keizu is inspired by the art direction and storytelling of the studio Ghibli films as well as that of other narrative driven adventure games such as Ori and The Blind Forest and Night In The Woods.




The game has something for everyone featuring a story involving the main character Rowan's struggle to find her place in the world after a tragic accident leaves her fiance dead. When she feels hopeless and lost, the spirits of her ancestors help guide her back to finding herself. Rowan meets new friends, finds new hobbies and helps save the woods near her town from destruction in her journey to recovery.
-2D Side scrolling exploration segments featuring hand drawn art and tons of unique locations to see.

-A diverse cast of characters and NPCs to meet as you venture through the town of Udosa.

-Hours of content with more coming in DLC updates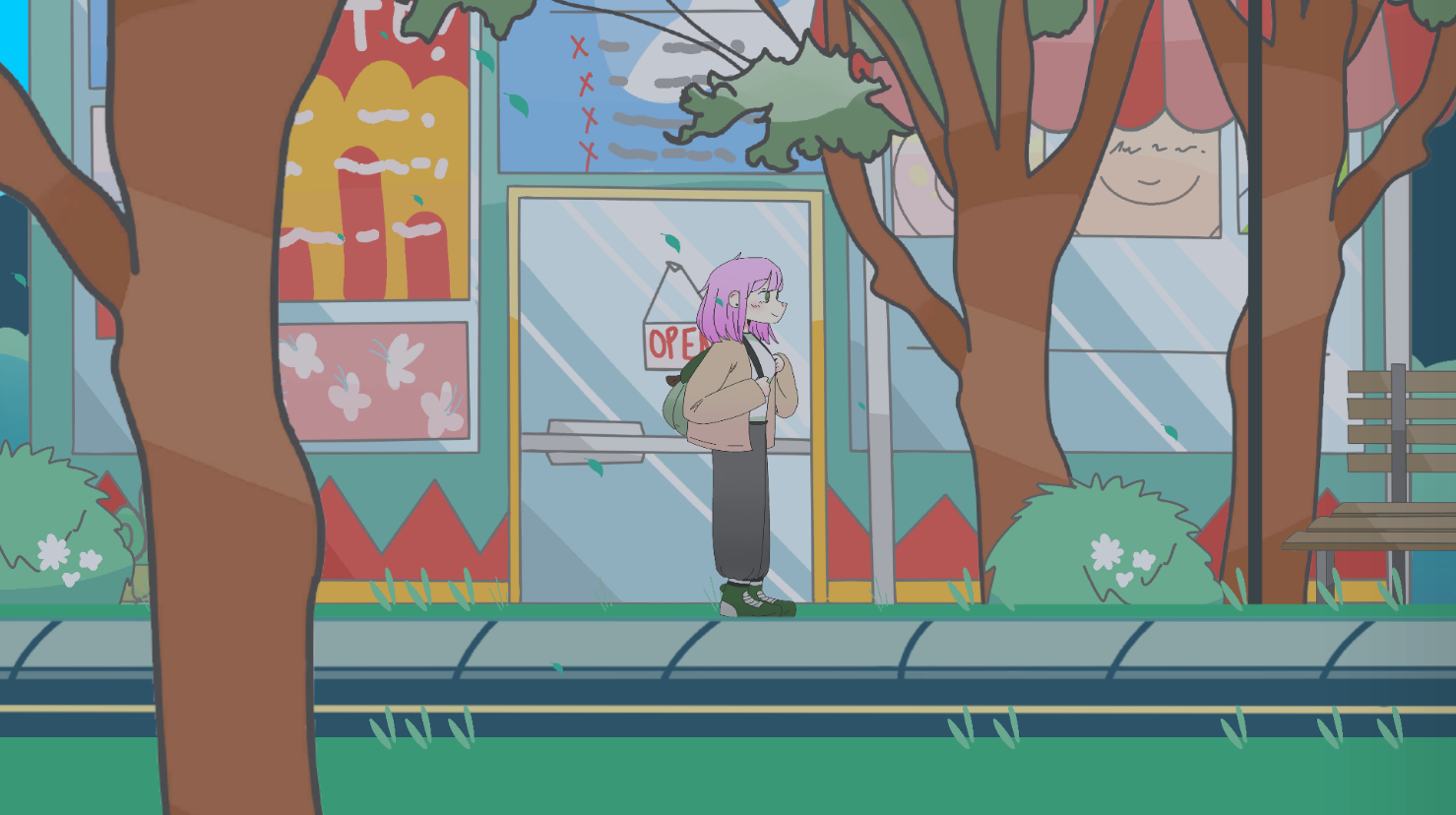 The town of Udosa is small and quiet. It's thought to be the perfect place for anyone wanting to start a new life. But, what happens at night unbeknownst to those who live there could change it forever. 🌸
The story of Keizu: A Life In The Woods, follows Rowan, after experiencing a traumatic event that leaves her feeling depressed and defeated. When she has a run in with the ghost of her great grandpa Gin and a mysterious forest spirit, life for Rowan changes forever as she goes on an adventure to save the ancient forest near her home from the destruction of corporate overlords.
Keizu features a diverse cast of characters that help bring it's world to life. As you go through your adventure as Rowan you'll get to know more about these friendly ( and not so friendly ) faces. 🌸
Rowan Mori-Peters
Rowan is the game's lead protagonist and who you will be playing as during your adventure through Udosa. At first you don't know much about her, but as time goes on you'll learn more about her troubled past.
Tala Limjoco
Tala is an energetic, enthusiastic and supportive girl. She's a theater student and an aspiring play writer with dreams of making a performance that displays and celebrates her Filipino heritage.
Pippin "Pip"
Pip is usually quiet and sticks to himself, but has a huge heart. He's always found with a big cup of coffee after he stays up too late working on his Computer Science projects. Pip has two dogs that he loves to take for walks.
Gin Mori
After a mysterious turn of events, Rowan comes to meet her great grandfather Gin, but, not in the way you'd expect. Gin guides Rowan through her journey to start a new future for herself.
Ms. Addison Nelson
Rowan's English professor. She's a single mom working as a teacher at the local university to help support her son. She's hardworking and the go to person when you need philosophical advice.
Samson
Samson is the head of NASQO, the local manufacturing company that's seeking to tear down the bamboo forest where ancient shrines were built hundreds of years ago. He acts as the lead antagonist in the game's story.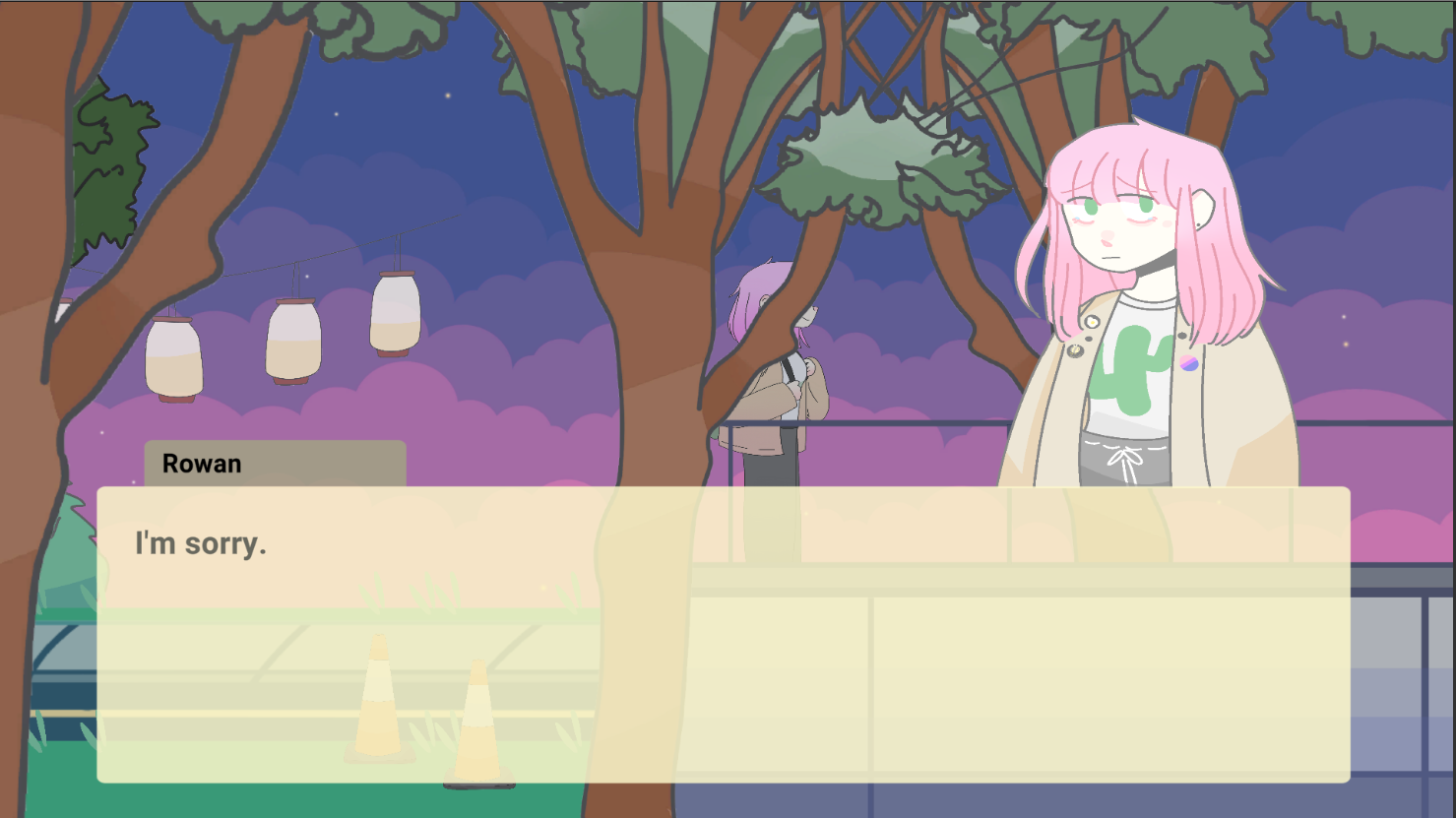 Our end goal is for a release of the game on Steam and Itch.io for all PC platforms in Summer 2021.
The game is in an early stage of development and should be fully completed by this time next year. This game is a passion project and we work on it in our free time. As college students working jobs when we're not in class or studying, though, this isn't always often. Though, we're dedicated to making this game the best it can be.
StarDog VG Studios is an indie game studio dedicated to making games that bring unique experiences and teach valuable lessons to their players. Based out of Michigan we work with a diverse cast of talent to make our work the best it can be.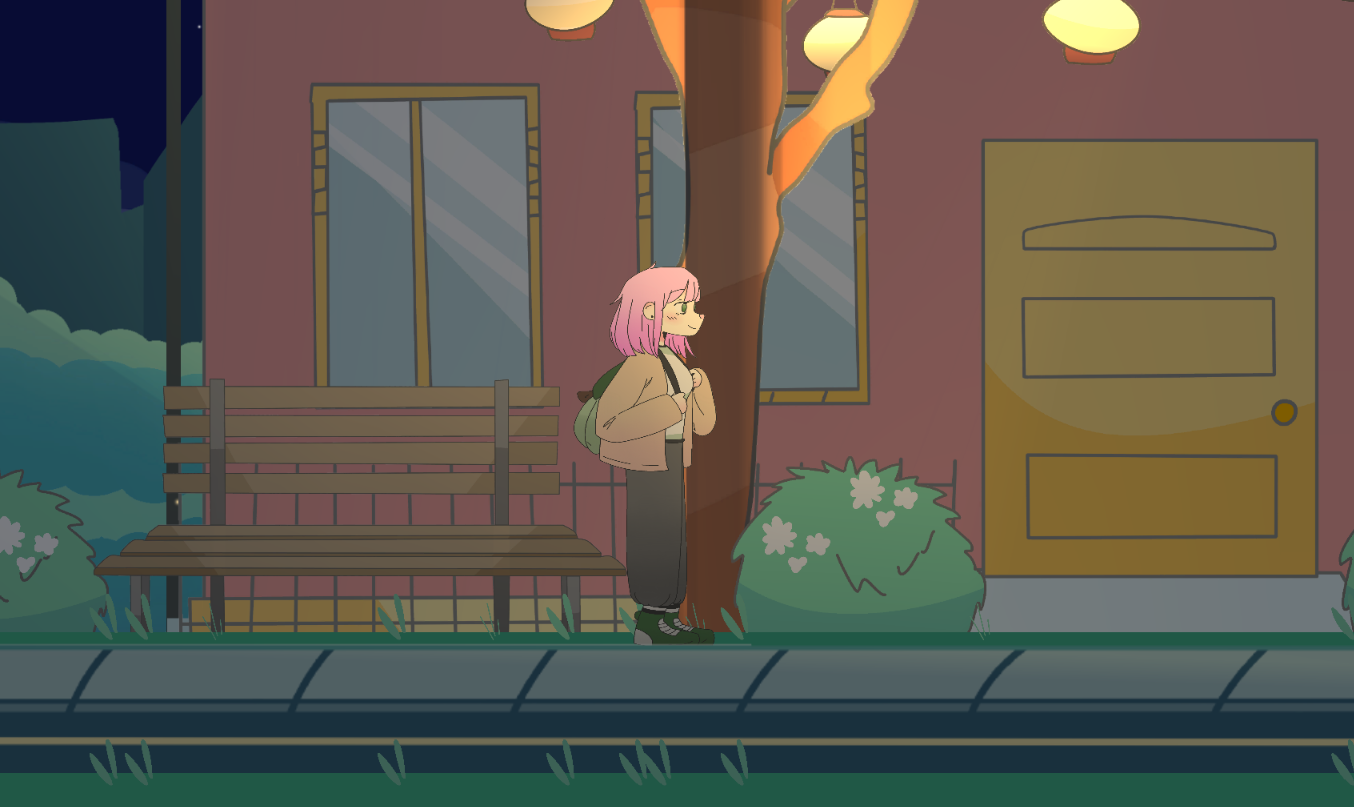 | | |
| --- | --- |
| Status | In development |
| Platforms | Windows |
| Author | StarDog VG Studios |
| Genre | Visual Novel, Adventure, Role Playing |
| Made with | Unity |
| Tags | 2D, Atmospheric, Exploration, Romance, Story Rich, supernatural, Yuri |
| Average session | A few hours |
| Languages | English |
| Links | Steam, Blog, Twitter |
Download
Click download now to get access to the following files: